Secrets Of Successful Draperies
Drapery panels can drastically change the look of a room.  You can use them in addition to blinds to add color and warmth to a space.  They also block out light, insulate drafty windows and add privacy.  However choosing the right draperies can be overwhelming to shop for.  There are hundreds of color and styles to choose from, not to mention the hardware.  I will try to help you narrow it down by touching on a few subjects.
 Draperies can be purchased either ready made, semi custom, or custom. Ready made are best if you need them up now.  There is a large selection and they ship quickly.  They are also the most economically priced.  They usually come in sizes to fit the most common size windows. Next is semi custom.  On semi custom the width is fixed and the length is made to your measurements, maximum is about 120 inches.  This is a good choice if you have high windows, or if you want your draperies to puddle (form soft folds on the floor). Lastly, there is custom draperies that are made to a specific width and length;  you can also choose the header style and fullness."Headers" are at the top of the panel that attaches to a rod.  Headers are available in many styles, I will talk about some of the most common here.  Pinch pleat comes in 3 styles; standard, goblet, and European.  These are used for draw drapes or stationary panels.  Next there is a grommet, rod pocket and tab top. These are used only on stationary rods.  
Choose The Correct Rod
There are different types of drapery rods; traverse, manual, and stationary.  Traverse rods have a pulley system enabling you to open and close the draperies by pulling on a cord.  They come in many different styles.  The most simple traverse rod is plain white and is hidden behind the draperies when closed.  There is also a decorative traverse rod. These are exposed just above to finish off the top of your drapery.  They are usually metal and come in a wide variety of finishes in both traditional and contemporary styles.  Traverse rods are used with pinch pleat draperies.
Manually operated rods offer an alternative to mounted draperies that need to draw. This type opens and closes  by manually pulling the drapes to the desired position.
The last type of drapery rod is stationary.  This type of rod will slide through a rod pocket along the top of the drapery.  Stationary rods can be wood or metal and are on grommet, rod pocket, or tab top drapes.
 Tips For Measuring
When measuring for drapes, check for obstructions.  For example, do you have a low soffit or kitchen counter ending right up to your patio door? Do you plan on adding a top treatment, valance, or
cornice? If not, consider a decorative rod.  To measure your length, measure about 4-5 inches above your opening.  Do you have enough wall space above the panels if your using a decorative rod? When measuring for width, rule of thumb is add 4" to each side of an opening.  For example, if your window is 80 inches wide, you would order 88 inch panels.  Basically you want your panels to overlap your windows by 4 inches on each side.  A couple of exceptions are; if you want your window to appear bigger or wider, then add more than 4 inches, or if you want all or most of your glass exposed when the drapes are drawn open, then add more than 4 inches.  This will allow the panels to stack over wall thus maintaining your view.  Just make sure you have enough wall on both sides of the window for this.
If you order custom drapes, they will come pre-pinned otherwise you must pin them yourself.  If your using a decorative rod, poke the pin in at 1-1/2 inches from the top.  If non-decorative white traverse rod, then make it 1-3/4 to 2 inches from the top.
 Steam Your Drapes & Then Train Them
Depending on how the drapery is packaged, most likely it will have wrinkles.  I recommend steaming out the wrinkles after the panels are hung.  A portable hand held steamer works well and is what I use.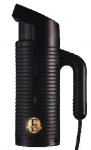 Follow the manufactures recommendations as some fabric especially silk, cannot be steamed.  Lastly, after you steam, you want to train your fabric to hang nice.  Some fabric looks great out of the package, but most do not.  They need a little extra work, but its worth the results.  What you can do is tie the fabric.  First cut 3, 4 foot long strips of plastic about 4 inches wide.  Disposable garbage bags work well.  Then fan fold a panel and tie a strip of plastic at the bottom to hold the fan in place.  Tie another strip about 1-1/2 feet above that and one more about 3 to 4 feet above the bottom.  Repeat on all panels.  Leave it like this for about 2 weeks.  When you take it off the strips of plastic, the pleats will be nice and uniform. 
I hope this sheds a little light on selecting draperies.  Good luck and I'm sure your drapes will look beautiful.
For More Information Including Price & Selection Click Here…..Draperies and Hardware
Have Questions Then ASK THE EXPERT
Related Articles
The Number ONE Problem With Panel Track Blinds
Latest thing in window treatments for sliding doors
Roll up shades…operate effortlessly with this latest feature
Your Must Know Guide To Window Treatments